Reverse Osmosis Systems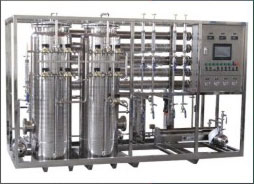 Reverse osmosis, also known as hyper filtration, is used to purify water and remove salts and other impurities. It is also capable of rejecting bacteria, sugars, proteins, particles, dyes, and other constituents that have a molecular weight of greater than 150-250 dalton.

Reverse osmosis is a process of physical separation of dissolved salts & minerals present in the water. This technology uses the principle of osmosis wherein mineral concentration of raw water is reduced by applying high pressure through a semipermiable membrane.


Standard Features

8" /4'' TFC spiral wound membranes
FRP membrane housing
Epoxy painted /Powder Coated steel frame
Stainless steel multi-stage pump
10 / 5 micron cartridge prefilter
Power supply: 460V/3Ph/60Hz
PLC based control panel (optional)
Programmable time delay and set points (optional)
Low pressure switch
High pressure switch
Glycerine filled SS pressure gauges, panel mounted
(for pump suction, membrane feed, and final Concentrate)
Permeate conductivity monitor
Permeate & concentrate flow meters/Rotameter
Available Options

Feed water conductivity monitor
Membrane cleaning skid
Automatic hourly flush
Feed / Permeate blending
Custom designed units
415V/3Ph/50Hz power supply
220V/3Ph/60Hz power supply
Product tank level controller switch
Feed pH controller with sensor
Feed ORP controller with sensor
Hour meter
Water meter
Chemical dosing units
Media filters
Ozonation system
UV sterilizers
Water softeners
Iron removal filter
Post DI polishers

Applications

Applications
Boiler Feed Water
Pharmaceuticals
Food Processing
Breweries
Hospitals
Hotels,Laundries,Dairies
Process Water For Industries
Service Section
Borewells
Technical Specification

Reverse Osmosis plant are available FRP/UPVC. SS plants are available for specific needs like pharmaceuticals industries, dairy, beverages food products & package drinking water lined up to 125000 LPH.